---








---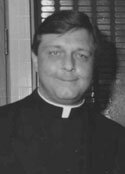 Reverend Albert John Pizza (1992-1996)

Fr A was born December 18, 1951. He grew up in Blue Island and attended St. Benedict's Parish. He studied at Quigley Seminary South, Niles College of Loyola, and St. Mary of the Lake Seminary in Mundelein.

Fr. AI was ordained May 11, 1977 by John Cardinal Cody, Archbishop of Chicago. He served his deacon internship at St. Laurence O'Toole in Matteson. His first assignment as an associate pastor was at St. George Parish in Tinley Park. He then served as associate pastor at St. Joseph Parish in Homewood and St. Gall in Chicago. In 1984,

Fr. AI joined the Homewood Fire Department and was certified Firefighter II by the lllinois State Fire Marshall. In 1987, he joined the Blue Island Fire Department and obtained Firefighter III certification. He also underwent emergency medical service training and is a certified EMT (emergency medical technician).

Fr. Pizza was also commissioned as a Naval chaplain in 1986 and served on active duty during the Persian Gulf War, attaining the rank of Lieutenant Commander in the Naval Reserve.

Following the retirement ofFr. Pachorek, Fr. Pizza was appointed to the office of pastor of St. Florian Parish by Joseph Cardinal Bernardin on March 4, 1992. During Fr. Pizza's tenure as pastor, the parish facilities underwent much-needed restoration. In addition, many new lay ministries were established to serve the needs of the community.
---