---








---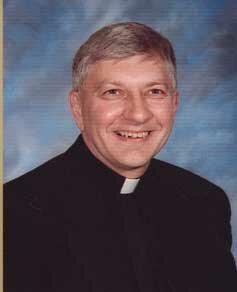 Reverend James Mezydlo (2000-Present)
Father Jim attended St. Michael grammar school in South Chicago for 6 years. He went to junior high at St. Mary Magdalene where he graduated from grammar school in 1965. Having served as an altar boy at both schools since the 4th grade (1961 – 1965), he felt a calling to be a priest.
While attending Quigley Prep. Seminary South, Fr. Jim was drawn to apostolate work teaching grammar school children in a variety of settings. He continued to serve mass everyday throughout high school and also functioned as a Master of Ceremonies at the Masses for Christmas and Holy Week.
Graduating from Quigley in 1969, Fr. Jim continued his seminary training at Niles Seminary where he received a Bachelor of Science degree in Sociology. His final preparation for priesthood took place at St. Mary of the Lake Seminary in Mundelein, IL. Besides keeping up with theology courses, his pastoral experiences included weekend work at St. Aloysius parish on the near north side and spending several months in San Francisco as a student chaplain.
After being ordained a deacon in 1976 Fr. Jim was assigned for six months at St. Mary, Star of the Sea parish near Midway Airport as their first deacon. He was ordained a priest on May 11, 1977 at Mundelein by Cardinal Cody along with 31 of his classmates.

Fr. Jim's first assignment took place at St. Joseph parish on Summit, IL. Besides his parish duties, he also served as a field Advocate for the Matrimonial Tribunal (1978-1980), one of the confessors for the nuns at Bethlehem Center in LaGrange, and celebrated Mass once a week for the Poor Claires in Hickory Hills.
His next assignment was at another St. Joseph, but this time in the Back-of-the-Yards neighborhood (1982-1990). Besides a big grammar school, it was one of the few remaining parishes that still had a high school. Fr. Jim celebrated Masses with the high school students and conducted their yearly retreats.
Before coming to St. Florian, he was assigned to Our Lady of the Snows parish from 1990-2000. Within 10 months at his new place, Cardinal Bernadin made him pastor of the same parish.

The oldest of four children, his three sisters, Cynthia, Susan, and Nancy are all married. His parents, Eugene and Frances currently live in Calumet City. Fr. Jim's most memorable summer jobs include working shift work, six days a week at U.S. Steel, South Works and as a student chaplain at St. Mary Nazareth hospital on the near north side of Chicago.
---