---








---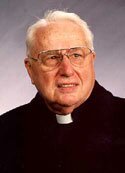 Reverend Casimir Szatkowski (1996-2000)

Father Casey was the ninth of twelve children of the late Catherine and Anton Szatkowski. He entered Quiqley Preparatory Seminary in 1938
and continued on to St. Mary of the Lake to complete his preparation
for the priesthood. He was ordained on May 3, 1950.
Father Casey came to St. Florian in 1996 and served as Parish administrator until 2000. In 1999 Father Caseyr was honored by St. Mary of the Lake for his life of service to the Church. Among his many accomplishments was the introduction of the Spanish Mass at St. Florian.
Fr. Casey passed away August 25, 2001
---