---








---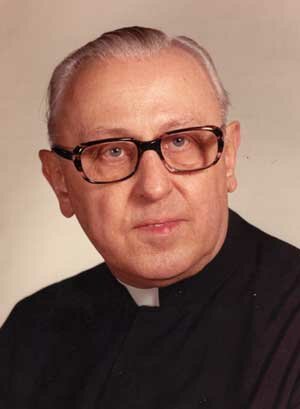 Reverend Chester P. Konsowski (1963-1974)
Father Konsowski was born February 23, 1909. He grew up in South Chicago and attended St. Michael's Parish. Fr. Konsowski was ordained on April18, 1936 and servcd for four years as an associate under Reverend Kulinski at St. Florian Church.
He was appointed pastor of St. Florian on December 8, 1963. Many monumental events occurred during Fr. Konsowskl's pastorate. Only months after his appointment, a fire allegedly set by two 11-year old boys gutted the sacristy causing $10,000 In damages. The following year, under his leadership, ground for a new convent and school was broken on February 7, 1965.
Also during his pastorate, many changes were made In the church due the Vatican Council II. The Mass was changed from Latin to English. A new wooden altar was built so the priest would face the people while saying Mass in English.
Father Chester also organized the Folk Group Choir and our first SchoolBoard. He was also a member of the Board for the Beatification of Mother Mary Theresa Dudzik, foundress of the Franciscan Sisters of Chicago. His respect for the Franciscan sisters who faithfully served St. Florian for over 75 years led to his being a major contributor to their motherhouse in Lemont, Illinois.
Father Konsowski passed away on February 3, 1974, after serving as St. Florian's pastor for eleven years.
---